Jay Trisko
How To Promote Your Yoga Studio
In a yoga-crazy market, having a solid yoga studio promotion strategy is vital to the success of your business. Today, you don't have to tell people that yoga is worthwhile, you just have to convince them that your studio is worth going to. But guess what? Almost every gym and fitness studio offer yoga classes, and specialized yoga studios are starting to rival Starbucks in numbers (well, not exactly, but it's getting there, you get the point). That's why yoga studio promotion is so important. Not only does it give your yoga studio a voice, but it also serves as an opportunity to put you ahead of the competition!
So, how do you promote your yoga studio in such a heavily saturated market? Read on!
#1: BUILD YOUR WEBSITE
You need a comprehensive website that showcases your studio, including information such as class schedules, sign-up and contact information, booking details, and images of your studio space. Bonus points if you include a video tour!
Your website should also include:
Your mission statementOwner profile(s) and storyTeacher profilesIntroductory yoga tipsOnline booking
Every business needs a website. Not having a website is detrimental for a yoga studio because without one, (depending on how big your town is or how engaged its residents are) you might miss out on potential customers.


#2. GET ON SOCIAL MEDIA
It's no surprise having a social media presence is vital. Here are some platforms you should look into:


FACEBOOK
Make a Facebook Business page! As a business owner, you want people to review your business and share your posts with their social network. Did you know you can do so much more with a business page than with a personal page? Now you do! Features, such as ads, customer engagement tools, and a professional layout, are all available to you with a business page. So get one!


TWITTER
Twitter is a great tool you can use to draw traffic to your yoga studio. Share yoga images with tips and ideas for how to pull off poses (bonus points if you share images from your studio!). Make sure to research and use applicable hashtags. 


INSTAGRAM
Instagram has many incredible features that make it a powerful tool for promoting your yoga studio. Images, short clips, and longer clips (on IGTV) are all great ways to sell your studio. Don't forget to use applicable hashtags (such as #iloveyoga #yogainspiration and #yogi) when you post!
Also take advantage of user-friendly graphics sites, like Canva, that help you share cool quotes, graphics, and tips on your social channels. Then, once you've posted, engage with your audience! Reach out and comment on novice or pro-yogis pages and say you like their form! Share moments on your social channels that people would be interested in seeing. Feeling unsure of what to share? Here are some suggestions:
Teacher spotlights
Ever thought about sharing teacher spotlights on all your social media? Teacher spotlights are great because they connect potential clients to your yoga instructors. Equally, they reassure yogis that they'd be in good hands if they took one of your classes.
Take viewers on a live tour of your yoga studio
What better way to give your prospective yogi's a taste of what you offer than to give them a tour of your yoga studio?
Give your audience a behind-the-scenes look at your day as a yoga studio owner
Of course, you don't have to share every little detail, but you could share what you had for breakfast, a snippet of an inspiring team meeting, and even what your office looks like!
#3. SHARE VIDEOS
Sharing videos is a great way to reach a passionate yoga-loving audience.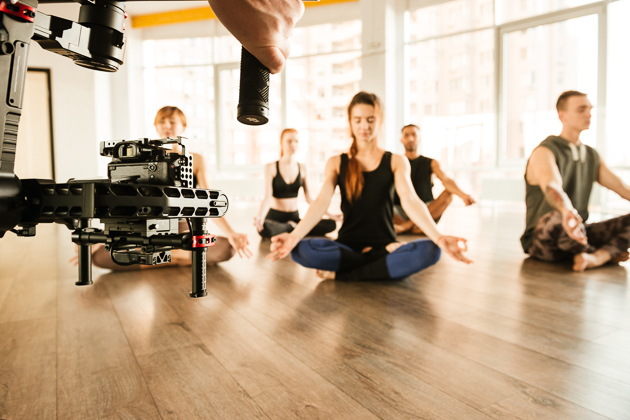 Did you know that videos and images are much more likely to capture attention?
You could talk about the fundamentals of yoga, the yoga discipline(s) that you offer at your studio, and you could also give a demonstration of key poses. On Facebook, you can share clips of your popular instructors leading a yoga class. You could even live-stream a yoga class on Facebook and on YouTube! A lot of yoga influencers and studios recognize that many people want to 'try' before they buy, so giving audiences a taste of what your classes are like will get them into your studio quicker than you know.


#4. START A BLOG
Offering a knowledge base, where you educate readers about the basics of the type of yoga you offer and a how-to of the poses, is a fantastic way of reaching out to wannabe and full-blown yoga fanatics. So, start a blog! Having a blog gives you a great platform to share your personality and your voice. Make sure that you include high-quality images along with the written content.
Some things to share on your blog include:


YOUR STAFF'S TECHNIQUES
Every instructor has their own way of sharing yoga, and showing that helps viewers understand how they'll get along with any teachers at your studio.


HEALTH AND NUTRITION
If you're an expert on this subject, this is your opportunity to show off! If you aren't certified to be sharing tips with an audience, then you can absolutely get an up-and-coming health and nutrition expert to share their knowledge on your blog.


YOGA TIPS
Now is your chance to give readers general tips about how to correct and perfect their poses.


#5. UTILIZE EMAIL MARKETING
You might be thinking that no one reads email ads. But in actuality, there are many email marketing misconceptions that just aren't true. Email marketing is actually one of the most useful tools out there, the trick is to figure out how to not end up in spam boxes.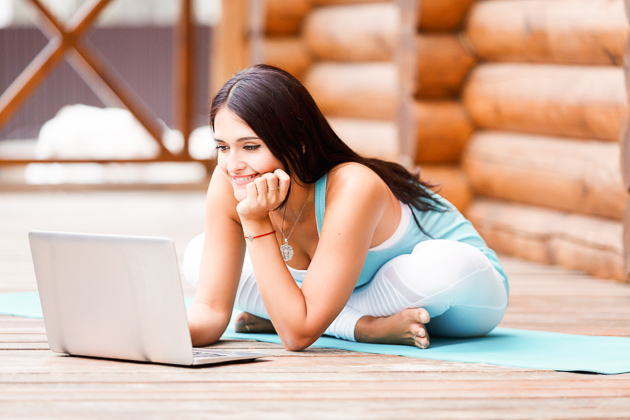 Here are some quick tips for successful email marketing:


OFFER VALUE
In exchange for signing up for your e-newsletters, why not offer an attractive discount or a bring-a-friend opportunity in exchange for being subscribed to your newsletter? Of course, you'd ask that friend they bring in to sign up for those emails too!


OFFER ADVICE
Have a weekly or monthly newsletter where you share yoga tips!


SHARE INSPIRATION
Why not use your newsletter to share how a yogi at your studio has transformed their life since dedicating themselves to the practice of yoga? People love motivational stories, and they'd surely want to be one of those stories at your studio too (whether they choose to be featured or not).


PERSONALIZE YOUR EMAILS
Try to get to the heart of why your clients do yoga and inspire them in your emails. Make it something they'll actually want to read. We all delete what we call 'junk mail' but we are much more likely to open the ones that are personalized.
Email marketing is a great way to connect with your clients when they're not at your studio, and keep them coming! So don't be afraid to give email marketing a try.


#6 SHARE CUSTOMER REVIEWS
I'm sure you know how important customer reviews are. Your reputation comes before anything you can say about yourself. So if you're as great of a studio as we know you are, why not show it off?
Reward your clients when they share reviews of your studio. Our system allows you to reward customers with loyalty points, which they can redeem. Your clients might choose to redeem their points towards one-on-one yoga sessions (if you offer them) or merchandise in your retail store, the parameters are up to you!
Your reputation comes before anything you can say about yourself. So if you're as great of a studio as we know you are, why not show it off?
The WellnessLiving platform publishes verified reviews all over the web. Every time a new customer review comes in, it's shared on the web, your Facebook page, and your WellnessLiving website. Because we're in partnership with Google, your studios (reviews included) will show up on the first page of Google Search and Google Maps.
Remember that almost everyone is online these days. Before anyone steps into your yoga studio, they've probably already looked you up online. They want to know what your clients have to say about you. We know you're good, but you have to let the world know too.


FINALLY
To have a successful yoga studio, you have to promote it in the right way. That means harnessing the power of social media, videos, and using the right software.